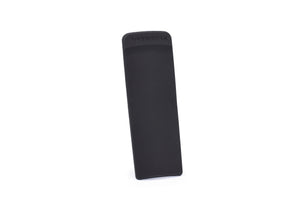 Forbidden Shuttle Guard
Sale price Price excl. VAT €11,99 Regular price
Designed to prevent unwanted scuffs and damage to your downtube from shuttling with your pride and joy, Forbidden's universal adhesive shuttle guard can be applied to the downtube of any bike in seconds.
To install, simply clean the surface, remove any dirt or greasy residue (with some isopropyl alcohol or similar), remove the adhesive backing (without contaminating the adhesive pad with greasy fingertips) and lightly affix in a desired position, preferably at room temperature or above. If you're happy with the position, somewhere close to 110mm from your lower headset race is pretty close, apply some pressure to the guard and you're ready to shred.
Prices excl. VAT.
Shipping
, duties and VAT calculated at checkout.
Please note:
due to high order volume, products will be shipped within 5-7 business days.